This Article, Tiny Kisargi, is property of FanofAll.
Also Known As

Tiny Tiny
Suteki

Species

Human

Gender

Female

Blood Type

O

Age

25

Height

5'3"

Weight

90 lbs

Occupation

Smuggler (formerly)
Bodyguard

Organization

Yakuza (formerly)
"What she lacked in height and sanity, she made up for with sadism and rage. She had the knowledge to rob a bank and the rage of a suicide bomber."

— L (on Tiny Kisragi)

Tiny Kisargi is a calm, quiet girl that is dangerous if crossed. She's an ex-drug smuggler and did transport for someone who claimed to be "Kira", before her life of crime caught up with her and L put her in jail. 
Kira Investigation
Then she got out and found him, demanding he employ her somehow. L hired her as his private bodyguard. He quite enjoys it when she unsheathes her samurai sword. Especially when she's pointing it at Light. 
She has threatened to kill Light plenty of times, and he knows she will too.
Relationships
L
"She was crazy.... Attractive, but a wee off her rocker."

— L (on Tiny Kisragi)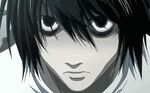 L seems to enjoy Tiny's presence, albeit he's had to incarcerate her a few times. Tiny seems to go to great lengths to protect him, even kill Light. She is shown to  have romantic feelings for him. She often insists they share a bed so she can keep an on him.  He kissed her once, but they haven't talked about it thus far. 
Omfg

Light Yagami
"I'm gonna kill her...."

— Light Yagami (regarding Tiny Kisargi)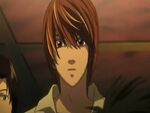 Tiny and Light have a love-hate relationship. They can get along feebly, until he says something to L and then she draws her sword.
Misa Amane
"Bottle Blonde bimbo... I'd like to dissect those fake tits of hers..."

— Tiny (on Misa)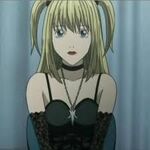 Misa thinks Tiny is her friend, but Tiny often refers to her as a "person I know". Tiny has homicidal thoughts about Misa.