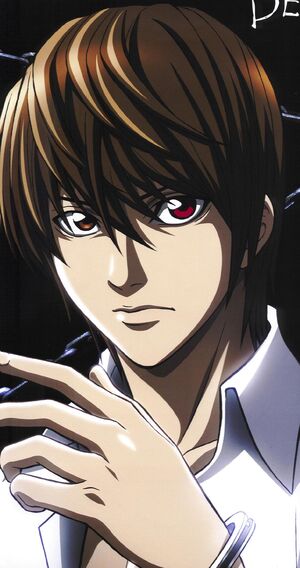 This Article, S (Death Note 2: The Ones Who Succeed), is property of Giddy N Hormones.
"Thank you for this gift Shinigami Ryuk, I promise things will be interesting for you once again."

— S
S is the main Antagonist in Death Note 2 and he is the successor to the original Kira. He takes on the role after the Shinigami Ryuk returns to earth and gives it to him for fun. Though he isn't a Kira supporter he has waited for the opperatunity to show his skills after being unable to achieve his goal of becoming L's successor at Wammy's house. He begins killing criminals and is soon suspected by Near , Q and R when they search through Wammy's students for possible suspects.
Personal Info.

True Name

Spencer James Wyatt

Also known as

S

2-Kira

Date of Birth

May 7, 1990

Date of death

May 7, 2017

Height

5"8

Weight

115 lbs
Appearance
S is a brilliant previous student from Wammy's. He is stylish and often wears trendy outfits and blends in with crowds. He is very much like a reincarnation of Light Yagami, Brown straight hair, a long fringe almost covering his right eye. He has strongly green eyes but in scenes of intensity they will change to yellow and his hair to orange.
Stats

Intelligence

10/10

Creativity

8/10

Initiative

9/10

Emotional Strength

7/10

Social Skills

6/10

Other Attribute

Psychological Power: 10/10